3/30/2021 Update
In the month of December, we dedicated a percentage of sales to The American Foundation for Suicide Prevention during our annual Charity Week.
With the support of our amazing customers who purchased our products and supported us on social media, we were able to donate $25,000 to The American Foundation for Suicide Prevention. Pictured below are Al Pape (CEO), Kate Steele (Director, Corporate Giving, American Foundation for Suicide Prevention), Tracy Mitchell (HR Director), and Tim Flynn (Owner).
In the time we have had our charity program, we have donated to make deserving causes close to our hearts including Make a Wish, American Cancer Association, K9s for Warriors, the Humane Society, American Diabetes Association, Autism Speaks, National Breast Cancer Foundation, Alzheimer's Foundation of America, and others.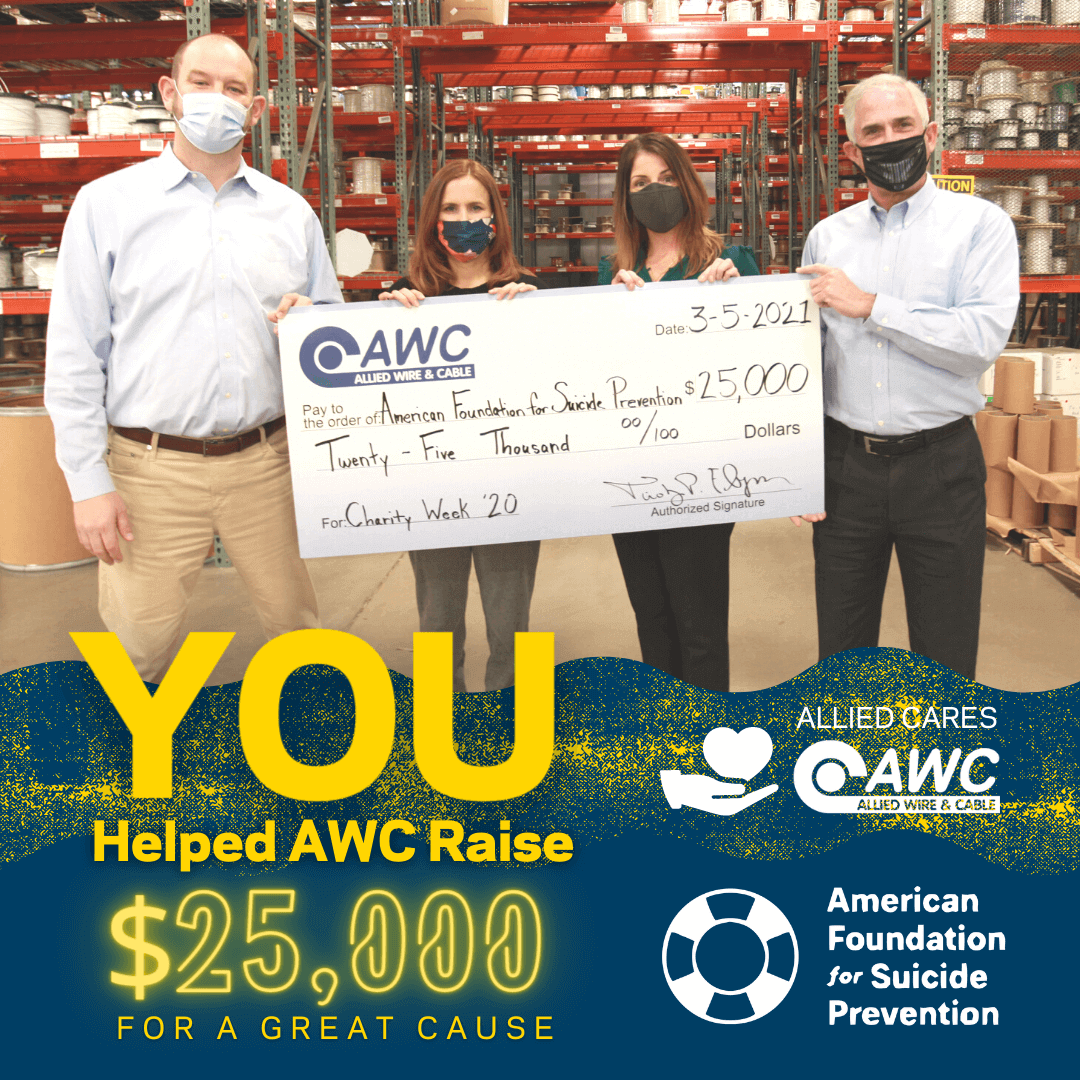 ---
12/14/2020
Starting as a small family business, we could not have achieved what we have today without the help of so many. We are truly blessed and feel it is our responsibility to help others in any way possible. Outside of our charitable events throughout the year, we always choose one week right around the holidays to dedicate a percentage of sales towards a cause close to
our hearts.
2020 Has been one of the worst years of a lifetime for all of us and it has brought many people to a breaking point. So, this year we let our customers choose the charity and the majority chose a rather uncomfortable topic and one we, unfortunately, had never considered before.
We are proud to announce that because of you all, we have selected The American Foundation for Suicide Prevention this year for our Charity Week!
Over 800,000 people fall victim to suicide each year. That's one person every 40 seconds, and for each death, there are 25 attempts. When facing hardships, especially the likes of which
we have seen this year, it's not always as simple as putting on a brave face. Don't believe there is no hope. Don't believe you have to suffer in silence.
We aspire to donate to this foundation in an effort to #stopsuicide and bring some relief to the hurt we've collectively experienced in 2020. Learn how to help someone at risk, make a difference in your community, and learn how to process the loss of a loved one by going to The American Foundation for Suicide Prevention website at afsp.org.
Please assist us in making a difference this holiday season by placing your Charity Week orders the week of December 14th - 18th so that we can help this wonderful organization and work together to help all who are struggling.
Wishing you all a safe and happy holiday.
The Allied Family