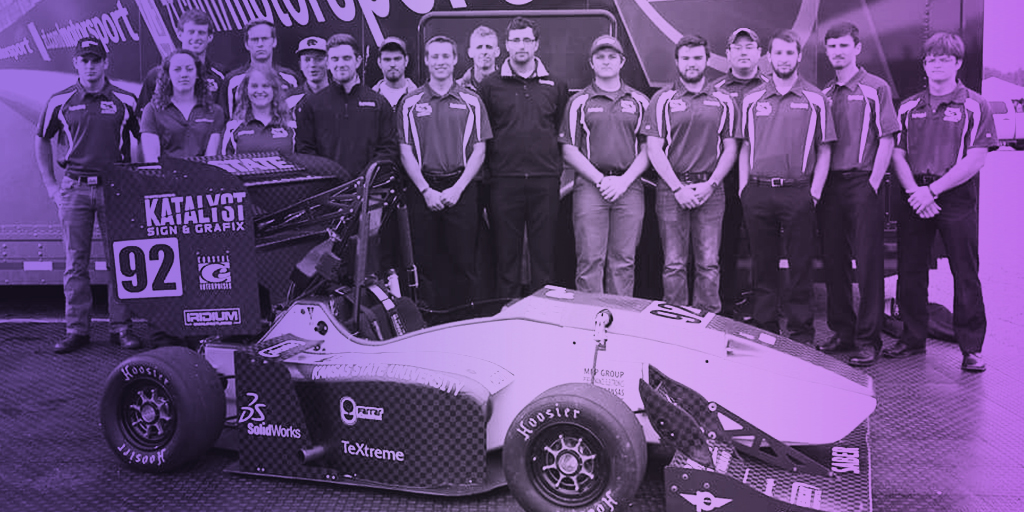 Sporting wire and cable products donated by Allied Wire and Cable, Kansas State University's Society of Automotive Engineers formula race car and the talented academic design team, Powercat Motorsports, behind it competed in Formula North in Barrie, Ontario, Canada, on May 31 against some of the highest-ranked North American teams. Thanks to Allied Wire and Cable's donation, Powercat Motorsports' car, named Ocelot, benefited from high-quality wire and cable products as opposed to off-the-shelf parts from years past. In writing Allied Wire and Cable last fall in its request for wire and cable products, the team expressed its desire to raise the bar in terms of quality and performance.
"This year, we want to … have a thoroughly designed electrical system with state-of-the-art equipment that meets or exceeds industry standards," the team wrote in an email. "The electronics team's goals are to create a reliable, high-quality harness that cuts down on weight, and meets Mil-Spec standards."
At the Formula North, Ocelot successfully made it through a series of static events and received tech stickers after passing thorough inspections by a team of judges. These inspections encompassed a brake test, sound test, and tilt test, the latter to ensure the car doesn't leak liquids. The vehicle also successfully competed in Formula North's first three dynamic events: skid pad, acceleration, and autocross. Ocelot didn't finish the overall competition because of a non-wire-related issue.
"We are already working on better design options for next year's car and have used the experience to better our understanding of weak links and how to prevent failures," wrote Brett Cook, Powercat Motorsports president, in a letter following Formula North. "Thank you so much for your help!" Bailey Martin, Powercat Motorsports' electronics design leader, wrote in an email to Allied Wire and Cable in late June. "As a first-year leader, it was a huge help! It is difficult to find the wire in the small quantities we need for each year. Thank you for being so helpful and flexible."
Each year, Allied Wire and Cable supports a number of college and university design teams by supplying wire and cable products to help power their cars. The company supplied GXL, SXL, TXL, Expando, and HST products. "The experience gained from the process of designing, building, and competing for Formula SAE is incredibly valuable for aspiring engineers," Cook wrote. "... As sponsors of this team, you are helping to prepare us, students, to succeed and propel our career as engineers."