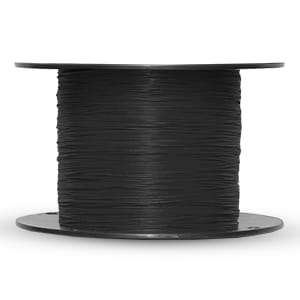 Approx LBS/MFT:

3.00

AWG Size:

24

Cond. Material:

Silver-Coated Copper

Conductor Stranding:

19/36

Insul. Material:

Polytetrafluoroethylene (PTFE)

M27500 Component:

RC

Max O.D. (in):

0.045

Max. Temp:

200C

Mil-Spec:

M22759/11

Min O.D. (in):

0.041

No. of Cond.:

1

No. of Strands:

19

SAE Spec:

AS22759/11

Strand Size:

36
M22759/11-24 Mil-Spec Wire
Our M22759/11-24 24 gauge cable is part of our Mil-Spec Wire and Cable line of Wire and Cable. It is generally used in military-specific and aerospace applications. M22759/11-24 is composed of a 19/36 stranded silver-coated copper conductor with polytetrafluoroethylene (PTFE) insulation. These cables are rated for a voltage of 600 volts, have a maximum temperature of 200°C, and weigh approximately 3 lbs/MFT. Its application is preferred where smoke emission, current overload conditions, flammability, or mechanical attack may be problems like aircraft engines and wherever abrasion is present. This makes M22759/11-24 cable excellent for harsh environmental surroundings. Per specification, this product will have splices. If continuous lengths are needed, please ask. Buy now while stock still lasts or get an instant quote too.
Features of M22759/11-24 24 gauge cable
Non-flammable
Self-extinguishing
Resistance to soldering iron contact
SAE Standards
M22759/11 or the SAE AS22759/11 Cables are standardized by the SAE or Society of Automotive Engineers. This international professional association establishes a global standard for engineering industries. The standards of the institution unify the manufacturing of a diverse variety of cables and electrical material. And offer authority for all manufacturers to be on the same page. SAE standards enable manufacturers to improve their quality of products and meet safety guidelines.
Allied Wire and Cable's M22759/11-24 Specifications