At Allied Wire and Cable we're celebrating our 30ish anniversary! You might ask, "What the heck does '30ish anniversary' mean?" Well, truth be told, we've been so busy growing as a company and serving you, our valued customers, that we're a bit late in getting around to properly mark our 30th anniversary. Hence our adoption of the "30ish" name. We think it's better to be late with this kind of thing and rather get your orders to you on time and with stellar accuracy.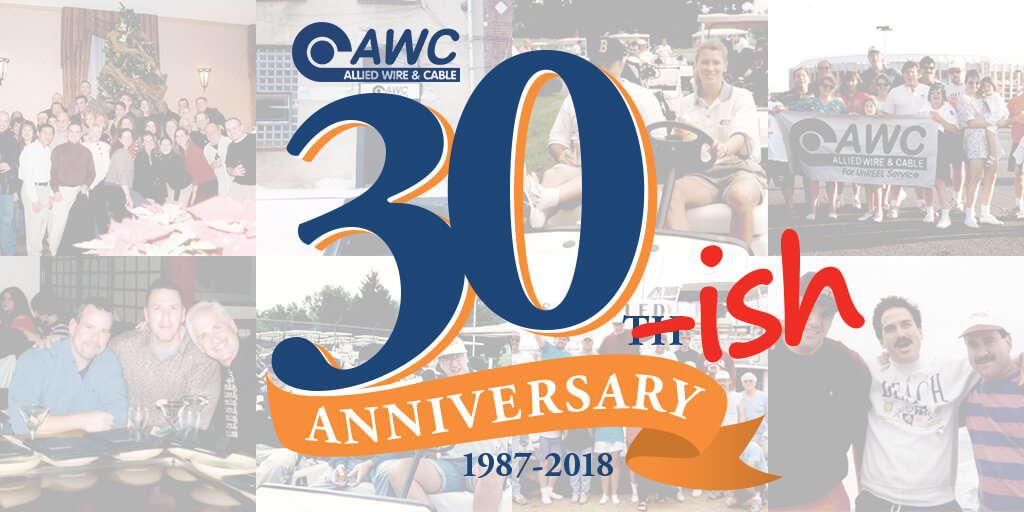 Starting out in a Family Basement
A bunch of Allied Wire & Cable team members got around a large conference table in mid-February 2018 to tell some colorful stories about yesteryear and take a good look at where we were, where we are and where we're going. Allied Wire & Cable launched in 1987 in the family basement of the Flynn family in Wayne, Pennsylvania, along Philadelphia's Main Line and was incorporated the following year. At the time, the Nintendo Entertainment System and Super Mario Brothers were booming in popularity, Michael Jordan was taking off sky high, Mike Tyson was the reigning heavyweight champion, Madonna was racking up four Top-10 hits and Dirty Dancing was the talked-about recent flick.
And the U.S. stock market crashed in October 1987. Just out of college, Tim Flynn left Wall Street and, before long, he and brothers Dan and Mike, all in their 20s, along with family friend Chris Burke started out by doing anything and everything—from ordering materials and making sales calls to spooling wire—to build their fledgling wire and cable business. The Flynn's mother, Jean, helped type documents, and father, John, nicknamed JJ, helped with deliveries. Legend has it that Jean also prepared some incredible meals for the young men to help fuel them in their pursuit of making it.
Growth Propels Moves to Bridgeport, Phoenixville and Collegeville
Allied Wire and Cable moved to a warehouse and office facility in Bridgeport, Pennsylvania, in 1992. Because money was tight and to ensure they could continue to receive bank loans, the owners had to prove the depth of their inventory, and this led to many deep-into-the-night workdays. When the team finally thought they had a day off because of a blizzard, longtime sales representative Pat Wilson arrived at work after trudging in by foot. "I guess we have to work," recounted Tim Flynn, Allied Wire & Cable co-owner and co-president, with a chuckle.
Come 2002, Allied Wire & Cable moved to a state-of-the-art facility in Phoenixville, Pennsylvania. By this time, the company was hitting its stride, maturing and refining its approaches. It was also growing by leaps and bounds. By 2008, the company outgrew this location and moved to its existing home in nearby Collegeville, Pennsylvania. It was a brand-new building, and still growth came quickly. A 2012 addition to the 80,000-square-foot facility brought Allied Wire & Cable's headquarters to more than 101,000 square feet. Four years later, the company purchased a building across the street and completed an expansion project, creating an additional 22,000 square feet of production and warehouse space.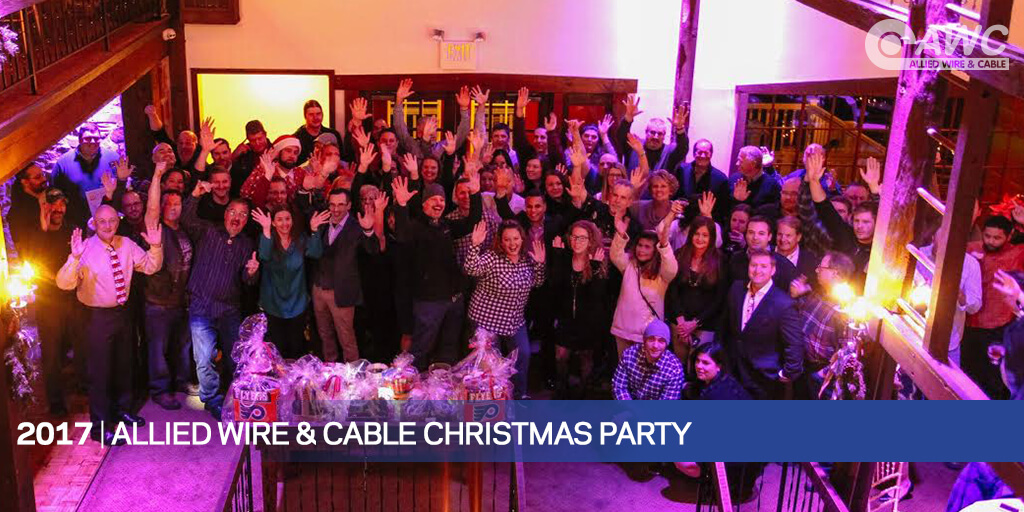 Allied Wire & Cable Family: We Serve Our Customers with 250 Team Members
Today, Allied Wire and Cable employs about 250 employees nationwide and operates sales offices in Arizona, Florida, New Hampshire, New York and Wisconsin. The company also operates warehouses across the United States, enabling for the quickest delivery times in the industry. Allied Wire & Cable boasts a $50 million inventory of wire, cable, tubing, accessories and hard-to-find parts. The company serves a wide scope of markets and provides customized services. Allied Wire & Cable is dedicated to serving its many thousands of global customers, who simply are the company's lifeblood.
Allied Wire & Cable owners have long recognized that their customers come first and that their customers are part of the Allied Wire & Cable Family. They've also known that their staff members, or team members, are the heart of the Allied Family. The owners are grateful for the commitment, dedication, vision, knowledge and hard work their team members bring to the company to provide customers with outstanding quality, service and pricing.
Allied Wire & Cable's owners have been guided by the credo of "Common sense, not dollars and cents." During and since the Great Recession of 2007–09, most companies cut staff, adjusting to slimmed-down employee rolls. Allied Wire & Cable owners, however, have always believed that their employees are nonexpendable. The company has not only provided job stability but continued to grow employment levels at all its warehouses and sales offices. This growth has and will continue to enable Allied Wire & Cable to improve its operations and customer service.
Giving Back As Part of AWCares
There's something else that makes Allied Wire & Cable special, and it's the owners' commitment to philanthropy. Allied Wire & Cable's mission as part of AWCares, its philanthropic branch, is to support local and national charities that advocate powerful causes. The company's owners were joined by Pennsylvania State Senator Bob Mensch on March 2, 2018, in handing a $50,000 check to two National Breast Cancer Foundation representatives who flew in from outside Dallas, Texas. This milestone moment in Allied Wire & Cable's history capped a record-breaking Charity Week in which customers helped the company raise $42,000—more than doubling previous fundraisers.
In recent years, Allied Wire & Cable has also raised money for American Diabetes Association, Autism Speaks, Make–A–Wish Foundation, Pets for Vets, Toy for Tots and the YMCA. More than $160,000 has been raised during all 12 annual Charity Weeks alone.
All of us at Allied Wire & Cable are grateful to have served you for 30ish years and look forward to being your leading source for wire and cable products for many, many more years. Thank you!