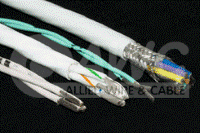 The M27500 cable is a military specification wire and can be single or multi-conductor. This cable may have single or double shields and jackets. They are designed to perform in even the most challenging environments and are commonly used in military and aerospace applications, including use as in-flight cables. Allied Wire and Cable is QPL approved to manufacture many constructions of M27500 cable in accordance with WC27500:2012.
The NEMA WC 27500 Type RC-06 and Type RC-09 series feature stranded silver-coated copper conductors, extruded PTFE insulation, and overall silver-coated copper braid shields. However, Type RC-06 cables have a PTFE tape jacket while Type RC-09 cables have an extruded FEP jacket. Both M27500 RC-06 and M27500 RC-09 cables are rated to 200°C and 600 volts. Both types are also manufactured in accordance with SAE-AS 22759/11. Our inventory of M27500 Cables and includes the M27500 TE-14 and M27500 TG-14 Cables.
The M27500 TE-14 and M27500 TG-14 series, now superseded by NEMA, feature stranded tinned copper conductors, extruded ETFE insulation, overall tinned copper braid shields, and extruded ETFE jackets. They are rated to 150°C and 600 volts. Although the jacket materials are the same, the conductors for Type TE-14 cables meet SAE-AS 22759/16 specifications, and Type TG-14 complies with SAE-AS 22759/18.