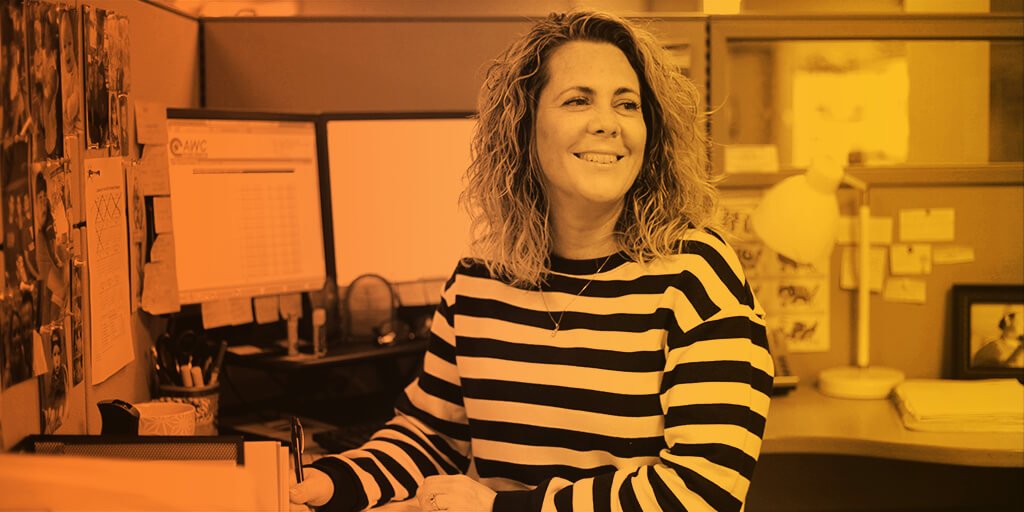 Holly Gantert, a sales representative who joined Allied Wire & Cable in 2004, is interviewed for Word on the Wire, a series celebrating Allied Wire & Cable's 30ish anniversary.
I started a year after they moved into the Phoenixville location. It's funny seeing it the way it is now, with all these departments, because when I started, there were just a few people in Accounting and there was Sales, and that was it. You know how co-owner Tim Flynn likes his Marketing. Since I was his assistant, he would try to get me to do Marketing things. "I don't know how to do this," I'd say. So when Natalie Beers came on board, she started out in Accounting, but then Tim found out her major was marketing, and I was like, "She can take care of this."
When I started, there were maybe 10 sales representatives. You knew everyone's families. You went out to lunch together all the time. It was really cool to have a small office like that because you get to know everybody. I knew everybody's kids. I enjoy the people I work with.
We used to have lunches called Crockpot Thursdays. Oh, my God, it was so fun! One person was assigned a Thursday, and this included Tim Flynn, Dan Flynn, and Chris Burke. That person was responsible for lunch that day, bringing in a crockpot or whatever they wanted to do. Chris Burke, of course, probably ordered out and got something delivered. Everybody took turns making lunch for everyone else, and we all fit in a tiny lunchroom.
It's a very good transition to go from sales assistant to sales representative. I think anybody here who transitions is pretty successful. There's so much information to learn. When you're starting out as an assistant, you're learning it all so that, when you're in Sales, you don't have to worry about learning the system, you can just focus on the sales aspect.
Of course, Sales is competitive. When we started out in the Collegeville location, we were clumped together in groups of four. There was constant competition among us and wanting to come out on top, but at the same time, we genuinely were happy for others' success as well.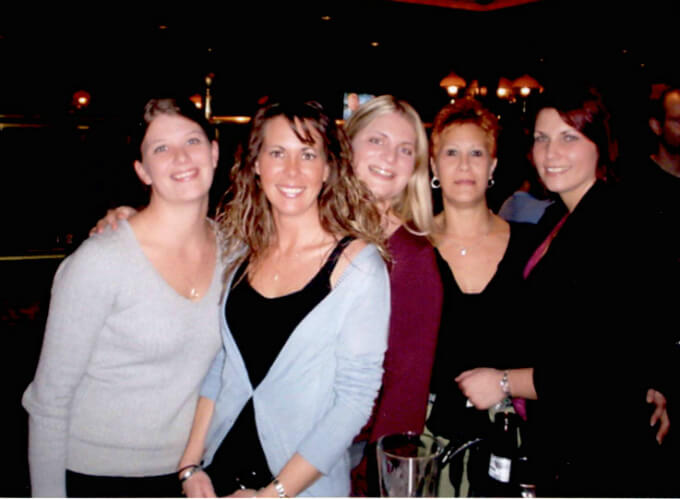 Holly Gantert (second from left) is photographed with a few other Allied Wire and Cable employees in this photo from late 2006.
When you think about it, we're with each other more than our families. All-day almost every day, whether it's work-related or family-related. We all know so much about each other. There is a bond. There's a friendship there that, for a lot of us, is going on 15 or more years. It's a long time.
I've gotten to the point here where I'm in tears from laughing so hard. I saw something posted somewhere that said if you can laugh at work, it makes a huge difference. It's so true.
When we moved to Collegeville, everything exploded as far as our growth. I mean, it was about instantaneous. When we moved here, we were like: "We're never going to be able to fill this office. Look how big this office is!" It was wide open; it echoed. And now we're bursting at the seams.
In this industry, it's not like you have one-time buys. I have people coming back time and time again, so I do build relationships with customers. We share stories of our kids, vacations, weddings… The relationship I have with them is really neat. At the end of our calls, it's like, "Oh, by the way, I need to place this order."
Tenacity and self-confidence are the biggest lessons I've learned here.
Both of my kids got scholarships from Allied. They were basically raised as Allied kids. This meant a lot and helped a lot. My youngest was in kindergarten when I started here, and he is now finished his sophomore year in college.
With Tim and Dan Flynn and all of us being here so long, every single one of us has gone through something. I've probably cried in each of their offices at least once. When it comes down to it, they care. They've helped me out tremendously through every different stage of my life.