The Bridgeport place was pretty run down and nasty with all kinds of rodents and stuff running around everywhere. Everybody would attest to that. I even stepped on a rat's tail there and nearly crapped myself! But everybody was awesome. I really became friends with my co-workers. We had a blast. We were very tight, close, and did things together. We'd go out after work to happy hours. They'd treat us to lunches. It was smaller back then. Everybody was all in one area. Co-owner and co-president Tim's office was kind of like his own office with a divider wall. It had a dividing window. I used to open the slider and bust his chops. It was fun.
Phoenixville was great. It was a brand-new building. It was huge compared to the Bridgeport location. They hired new people, and I met new people, who I became friends with. They're still here, too. It was a fun, family atmosphere.
I was at the groundbreaking for the Collegeville building, and it's really neat to see where we've come from. When we first moved in here, there was a huge area where it was wide open for about two years. Now it's completely filled. Twenty years is a decent amount of time, but in these 20 years I've been here, we've grown pretty fast.
I've known some of my co-workers, especially Libby Achenbach, Pat Wilson, and Jen Byrne, for 20 years. I have seen some come and go who I became friends with and still keep in touch with some of them, too. Which is cool. It's definitely a family, for sure.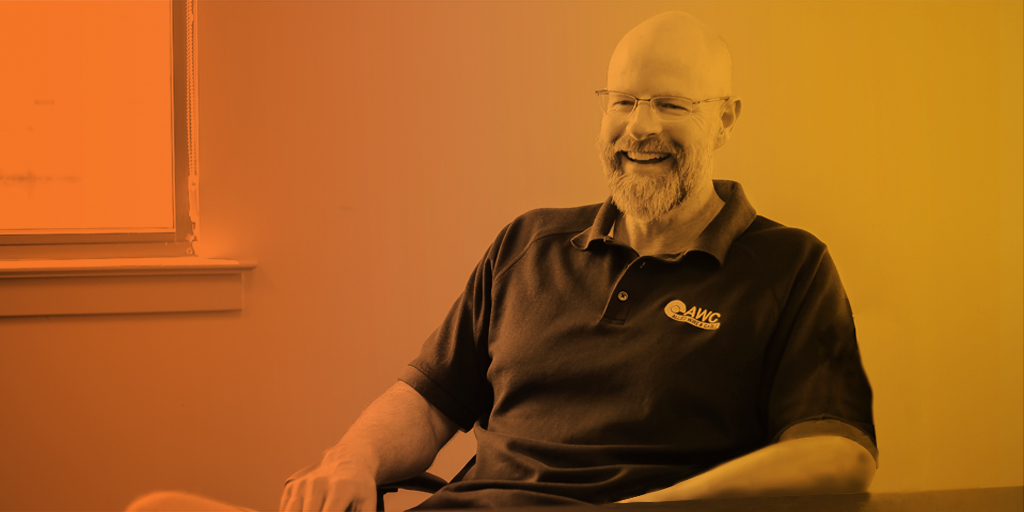 Mark Berry, an account executive who joined Allied Wire & Cable in 1998, is interviewed for Word on the Wire, a series celebrating Allied Wire & Cable's 30ish anniversary.
Our Christmas parties have always been fun. One employee during the Bridgeport years showed up as Santa Claus, and nobody knew he was going to do that. We were all blown away.
The secret is a prompt response, getting right back to the customer. Trust is a huge thing, especially with a lot of our competitors. Our Sales team is trustworthy and gets back to customers very quickly. We have competitive pricing and good shipping, usually shipping out within 24 hours.
I think everybody here has a personality. Which makes it more interesting for the customer to deal with you because they're dealing with vendors all day. Some people are by the book: "Oh, here's your price. Bye." We have a relationship with our customers. I've had customers since we were in Bridgeport. They've been with me for 20 years. I've reconnected with customers who have left the business they were in prior. I'm like: "Oh, my God, thanks for remembering me! I appreciate it." That's a huge compliment right there.
At the first golf outing I went to, I didn't golf at the time. Later, I took up golf and was able to experience it for myself. Pat Wilson was very influential in getting me into golf. He'd be like, "We're going to play," and I would say: "I don't have any clubs. I don't even play." And he'd say, "You can borrow some of mine or somebody else's," and we'd go. A lot of times, I remember going to the outing, and I didn't golf, and I'd be like: "Oh, man, I want to play. I could be out here." And then I remember co-owner and co-president Dan Flynn saying: "You can hit one drive. You can use my clubs." I did, and it was great. I got addicted to it, and now I just can't stop playing. I've been playing golf for six or seven years now, often with Pat Wilson, Matt O'Reilly, and Jim Thivierge, from all different departments.
The golf outings are huge for connecting with customers. We've had the golf outing every year since I've been here, and a lot of other companies don't do that. I think Tim Flynn and everybody else knows that it's very important to reward your customers for being loyal all these years. It's also important for customers to come out and meet your rep, or salesperson, to be able to spend time with them. We're really not talking about business; we're just shooting the sh*t and having fun. Everybody who has ever come to it loves it and comes back all the time. Which is great. It couldn't be any better than that.
With customers, we're friends more than having a traditional customer-vendor relationship.
I still love coming to work every day, and the people I work with are great. I couldn't ask for anything better right now. I've actually seen my whole life happen here. I got out of school and met the mother of my boys through here. We bought a house when I was here. We had our boys when I was here. Everything's happened in 20 years for me since I've been with this company, and they've seen it all. It's definitely a big family.